Institutt for naturforvaltning (INA)
Stein R. Moe
- Elephants and Savanna Woodland Ecosystems: A Study from Chobe National Park, Botswana.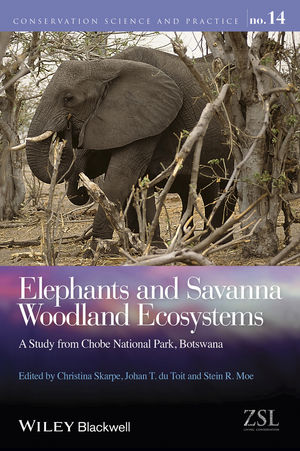 2014
Wiley-Blackwell
ISBN 978-0-470-67176-4

Innbundetet
324 sider


During the nineteenth century, ivory hunting caused a substantial decrease of elephant numbers in southern Africa. Soon after that, populations of many other large and medium-sized herbivores went into steep decline due to the rinderpest pandemic in the 1890s. These two events provided an opportunity for woodland establishment in areas previously intensively utilized by elephants and other herbivores. The return of elephants to currently protected areas of their former range has greatly influenced vegetation locally and the resulting potential negative effects on biodiversity are causing concern among stakeholders, managers, and scientists.
This book focuses on the ecological effects of the increasing elephant population in northern Botswana, presenting the importance of the elephants for the heterogeneity of the system, and showing that elephant ecology involves much wider spatiotemporal scales than was previously thought. Drawing on the results of their research, the authors discuss elephant-caused effects on vegetation in nutrient-rich and nutrient-poor savannas, and the potential competition between elephants on the one hand and browsers and mixed feeders on the other.
Ultimately this text provides a comprehensive review of ecological processes in African savannas, covering long-term ecosystem changes and human-wildlife conflicts. It summarises new knowledge on the ecology of the sub-humid African savanna ecosystems to advance the general functional understanding of savanna ecosystems across moisture and nutrient gradients.